OUR FOCUS
Economic self-reliance and Recovery
Challenges in Yemen
Both poverty and food insecurity have been recognized as the underlying and direct causes of inequality and the main barriers faced by Yemenis in achieving their full potential. As the conflict drags on worsening humanitarian conditions and acerbating livelihoods losses, a general pattern of deteriorating of livelihoods conditions, gender relations and women marginalization and increased inequalities have been observed leading to increased vulnerability and deterioration of livelihoods conditions and means. As such increasing demand for the livelihoods support, alternative and reliable energy sources and competition of use of natural resources as well as difficulties in planning and delivery of emergency crisis responses to address priority and livelihoods needs of the affected community including provision of basic inputs for resumption of basic services.
Our intervention
UNDP Yemen has scaled up the emergency crisis response and rural community resilience building through a bottom-up approach, using local systems, boosting capacities of the institutions to progressively resume and scale-up services delivery. The expanded programmes aim to mitigate impact of the current crisis, restore livelihoods, increase short-term employment opportunities, revive local private sector and activate delivery of key social and basic service through small-scale infrastructure, access to finance and provision of renewable energy sources. Partnership has been fostered with WB, EU and USAID to scale up the emergency response, resilience building and recovery programmes addressing priority needs of the affected people in almost all the governorates and over 90% of the country's 333 districts.
The livelihoods and community resilience building adapts an integrated and inclusive approach while targeting and engaging the hosting communities, IDPs and Returnees in accessing the immediate and longer-term income opportunities. Provision of fair opportunities to all support bring affected people together to reduce vulnerability, get stronger sense of self-worth and make a meaningful contribution to hosting community while also ensuring access of the IDPs and Returnees to immediate and longer terms livelihood means and opportunities.
As of Dec 2017, 163 Insider Mediators were recruited
Explore more
The United Nations Development Programme began a mine action training programme for 25 staff from…
Sana'a, Yemen – Made possible by funding from the Government of Japan, the United Nations…
Sana'a, Yemen – Made possible by funding from the Government of Japan, UNDP in Yemen – in…
New York– Unprecedented numbers of people are affected by conflicts and humanitarian crisis in the…
UNDP Yemen, in partnership with For All Foundation (FAF) and OXFAM, is conducting a series of cash…
Aden, Yemen - UNDP Yemen, in partnership with Oxfam, is conducting a series of Community Protection…
40,078 beneficiaries of 5,725 households reached/supported through resilience enhancement activities…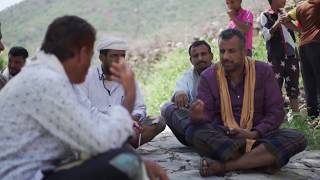 This study is segmented into two parts. The first part focuses on the documentation of good practices…
YEMAC, with UNDP's support, will establish a remote system of collecting information, collate…
YECRP aims to mitigate the impact of the current crisis on Yemeni local households and communities…
In January and February 2017, EECR Cluster partners released around 1,969,106 sq. m of land through…
UNDP has partnered with the Social Fund for Development (SFD) to implement the US$ 11,200,000…
Funded by the European Union, the Enhanced Rural Resilience in Yemen is a three-year joint programme…